No.32 CBD Pills 300MG / 30 Tablets No.32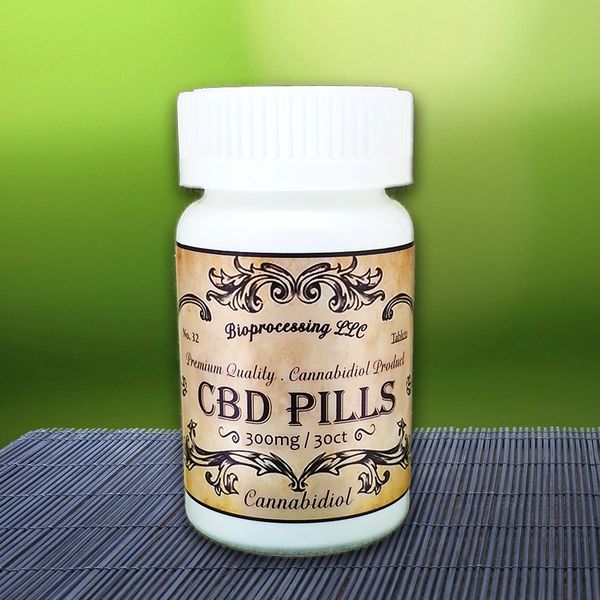 No.32 CBD Pills 300MG / 30 Tablets No.32
To order please call 352-978-5293
CBD 300mg
in a 30 Tablet bottle.
Ingredients:
Serving Size 2 pill 15 total †

CBD 300mg
Hemp Powder

30 Count CBD Hemp Oil Based Pills,
CBDglobalLabs CBD is the most powerful CBD Pill on the market that offers multiple benefits while being absolutely safe for use and legal in all 50 states of U.S.A.†
The CBD oil we use to produce our pills, Is from the industrial hemp plant and is significantly different from your regular hemp-seed oil you may find in your health food store. The plant that is used to produce the CBD for CBD Pills, has been bred to have high CBD content and no THC. Live The Healthy Life.**
Legal in all 50 states. No prescription or permit required.


** These statements have not been evaluated by the Food and Drug Administration. This product is not intended to diagnose, treat, cure or prevent any disease.
† Daily Value (DV) not established.
If you are seeking a Healthier Lifestyle, it can be yours
Take a look at our CBD Tablets for some exciting revelations. Today, you will find many natural products available boasting one shared comment – they all claim that they are wonder remedies! But how true is that statement? The fact is that these natural products claim to be miracle remedies but they are not. However, CBD Tablets undoubtedly have the elements of a modern all natural dream remedy. But Why? Let's take a close look.
Miracle Cures and Natural Remedies
A miracle remedy… What is it? A miracle remedy is a remedy that can avail to treat a range of conditions. An overwhelming number of products on the market today claim to treat only one condition. Is that really what you want? While the vast majority of us suffer from several different health conditions most of us don't seek a treatment for only one condition.
The majority of people being treated homeopathically need assistance with a variety of health conditions. On a Regular basis, people openly discuss suffering from cardiovascular disease to diabetes. Most people do not suffer from only one condition; they have issues and complaints about several. Imagine having a remedy, all natural that will work as a wonder remedy for several conditions affecting you. Wouldn't this eliminate the painstaking decision of taking several different tablets, capsules or supplements just to treat each or condition? This is how our Premium Quality CBD Tablets can make a world of a difference in your well-being; a wide range of medical conditions can be treated with one effective CBD application.
What Exactly Is CBD?
CBD and THC are common molecular compounds found in cannabis and hemp. THC is the compound which creates the "high" from cannabis; while CBD is non-psychoactive. Unlike THC, CBD will not create a high; this is why CBD is not chosen by recreational users. It gives the chemical a significant advantage as a medicine, since health professionals prefer treatments with minimal side effects.
Cannabis breeders are now able to grow varieties with almost zero THC content, while increasing the CBD levels. These plants are becoming more and more popular.
As published in, Brazilian Journal of Medical and Biological Research*, it has stated that CBD "does not interfere with several psychomotor and psychological functions." It has also been stated the CBD is not known to have any harmful side effects and is safe.
It is important that customers start off at a low dosage and increase the amount of CBD content until they reach the level of comfort they seek.
Please see our complete line of CBD products including CBD Oils, Tablets. Essence (Vape Oils), Teas, Edibles, Ointments, Protein Powder, Gummy, Sleep Aids, Multivitamins & Lip Balms, all developed with your comfort, safety, pleasure and satisfaction in mind.
You've probably heard of a chemical called THC. It's the ingredient that gives its users that "high" effect.
CBD is another chemical compound in cannabis. By isolating that chemical compound from THC, people can enjoy many surprising health benefits without the unwanted side effects of THC.
CBD and THC are two of 60 cannabinoid compounds found in cannabis. When cannabis is grown for recreational purposes, it typically contains more THC than CBD. Specific THC and CBD levels vary between plants. By using selective breeding techniques, skilled growers can adjust the levels of THC and CBD to purify the benefits in favor of either THC or CBD.
Some of the more skilled growers have been able to create strains that have high levels of CBD with virtually no THC. You enjoy the health benefits of CBD without the "high" effect.
CBD Does Not Get You High
No, CBD doesn't get you high because it's non-psychoactive. This makes CBD-rich strains a poor choice for recreational users, but a good choice for those who wish to take it for its health benefits.
You see THC acts on your CB1 receptors. These receptors are highly concentrated in your brain and lead to the mind-altering benefits associated with the high. CBD doesn't act on these same receptors.
It also makes CBD a more valid medicine. Today, doctors across America are studying CBD for its medical properties. Since users don't experience the high effect, doctors are starting to view CBD as a valid treatment method.
Research of different doses of CBD – including high doses. Researchers concluded that CBD was "well-tolerated and safe" even at high doses, and that the compound "does not interfere with several psychomotor and psychological functions."
Benefits of CBD
Now let's get to the fun part: what are the benefits of CBD Tablets and what kind of health effects can you enjoy?
One of the best ways to answer that question is by looking at a 2013 study published in the British Journal of Clinical Pharmacology. That study analyzed multiple CBD studies that had been performed to date and found that the compound had been linked with all of the following benefits and medical properties:
— Antiemetic: Reduces nausea and vomiting
— Anticonvulsant: Reduces your risk of seizures and suppresses seizure activity.
— Antipsychotic: Fights against psychosis disorders.
— Anti-Inflammatory: Reduces inflammation throughout the body and defends against inflammatory diseases.
— Anti-Oxidant: Reduces your risk of degenerative brain conditions like Alzheimer's and dementia (neurodegenerative disorders).
— Anti-tumoral/Anti-Cancer: CBD has been shown to reduce the growth of cancer cells and fight back against tumors.
— Anxiolytic/Anti-Depressant: Reduces anxiety and treats the symptoms of depression.
CBD also has one more benefit: it takes away the "edge" of THC and has been shown to reduce side effects like paranoia and memory loss. It's also been shown to reduce the "sleepiness" caused by THC, which is why certain strains of marijuana can increase alertness.
The CBD Health Benefits Are Not New.
The positive health effects of CBD have been documented for quite some time; however we were not successful in isolating the oil (resin). Medical, or industrial grown, Cannabis sativa, has been able to allow us to substantially increase of CBD from the plant. This has facilitated the process of isolating the health benefits derived from CBD thus creating an effective remedy that is both safe and natural for what ails us.
However, the benefits of CBD have been documented throughout the world for several millenniums. In ancient Egypt CBD was used to treat inflammation, as well as the Chinese used it for stress.
Reviews